Five main trends in legal operations that affect in-house lawyers
We caught up with Mo Zain Ajaz, founder of Lex 360, a consultancy driving legal optimisation, as well as General Counsel and Global Head of Legal Operations at National Grid, to hear his thoughts on five future trends in-house lawyers can't ignore.
#1 Data will drive smarter team design
Future-proof legal teams will need to encompass a greater range of different roles and practices. After clarifying their team's purpose with senior stakeholders, GCs must build their legal team based on understanding what they need to deliver and where they can add the most value.
For instance, I believe more complex work should be done internally so that teams are engaged and challenged. Many GCs still fail to segment what their teams and supply chain should be doing and as a result, law firms get the best work, in-house teams are under-utilised and businesses are charged a lot of money. Taking "lean" thinking, the principle of delivering the right services at the right cost for the right people at the right time, and applying this more consistently to legal teams will open up the potential for new types of roles and relationships with a wider range of suppliers and the need to nurture new skills and attitudes.
My own process starts with understanding the bottlenecks and issues by talking to the GC, colleagues on the ground and business stakeholders. Through Lex 360, I've helped GCs define their purpose and determine how to capture value. I believe GC's should consider the data that they need to collect to demonstrate their purpose to the business and to enhance service delivery very early in the process of function design.
By designing and performance-managing through a scorecard, the GC's were able to present the value of the legal function to the executive team. Leading with data establishes greater credibility for the legal team and encourages innovation, collaboration and increased investment in the function.
#2 The legal operations function will grow and grow
Legal ops, or the business of law, is an essential part of any legal function. From my experience, GCs are getting more and more confident with demonstrating their value through the utilisation of data, processes and systems, generated by a dedicated legal operations function.
We can do even more by looking at the legal function in a holistic systems sense and by demonstrating how the system's performance can be improved yet further. Currently, there is still a lot of value being left on the table, largely due to poor processes, poor selling practices by law firms, and poor buying behaviours by internal legal stakeholders. Better organisation of legal functions through greater emphasis on legal operations has the potential to deliver a high return on investment, leading to an increase in specialist legal operations roles.
#3 Qualifying through experience will open new career pathways
My own career journey is an example of the importance of continual development and learning from disciplines outside law.
I am a property and planning lawyer and started at National Grid in 1997. I became a GC at National Grid Property in 2010, then global head of legal operational excellence at National Grid in 2015. I did an MBA at the University of Warwick in the middle, which helped me get to the GC role, and a MSc in Lean Enterprise which has been invaluable to my work in legal operations. For the past three years, I've been helping GCs set up their legal ops functions via my consultancy, Lex 360.
With the upcoming changes to the pathway to qualify as a solicitor coming into force next year, we have an opportunity as a profession to disrupt the traditional training contract. By building high-quality learning experiences that will help the next generation of lawyers develop a wider-range of legal and commercial skills earlier on, their exposure to work at a greater range of organisations will undoubtedly change the way they learn and hone their skills.
#4 Technology's role will expand – but it isn't a magic bullet on its own
There are still significant, unrealised opportunities for technology to automate away work that takes up time in areas such as billing management. However, committed and enthusiastic employees can still out-deliver technology solutions when it comes to more complex work.
There is a lot of noise about technology in the market. To cut through and make a difference, legal leaders need to think about how technology, process and people interrelate to deliver value.
#5 Process and problem-solving will become core legal competencies
Conscious process design enables legal functions to avoid failures and wasted effort because work is done right every time.
For example, I was working with a client on a multiple redundancy programme and helped them to be very prescriptive about what their firms needed to deliver and how internal and external teams would share information. That client was then able to use a single system with all the data in one place and a uniform workflow, which enabled work to be done faster and reduced risk for the business. This delivered a much better outcome than each law firm using their own templates and processes.
Extra focus on process and problem-solving will help GCs to be better customers to their suppliers and the industry collectively deliver greater value.
Ultimately, the legal team is not an island, it is there to deliver for the business. Legal operations practice is essential to making the legal team's contribution more effective and more visible.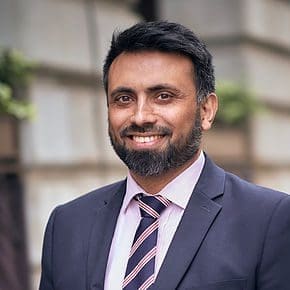 About Mo Zain Ajaz
Mo is a member of the Leadership Team with responsibility for strategy, planning, performance, change and improvement across the Global Legal function. Accountability for National Grid's Operational Excellence programmes across the function (Risk and Compliance, Assurance, UK / US Legal and Company Secretariat). Accountability for all legal services for National Grid's property portfolio.