With St Patrick's Day just around the corner on March 17th the world is gearing up for the #GlobalGreening, in recognition of the contribution to international society Irish people have made at home and abroad. As part of the celebrations, The Attic takes a look at historical Irish legal figures and pioneering modern day legal heroes, who have achieved notable firsts and made major impacts in the legal sphere and beyond.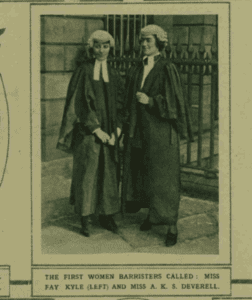 Frances Kyle and Averil Deverell
Frances Kyle and Averil Deverell became the first women to be admitted to the Irish Bar in November 1, 1921 – almost a year before any woman was called to the English bar (Ivy Williams, 10 May 1922). Frances Kyle studied her BA and LLB at Trinity College Dublin. She went on to win the John Brooke Scholarship, a prize for top law students and the Irish Times reported it as representative of "a women's invasion of the law… quite consistent with the adventurous spirit of the age." Kyle was also elected a member of the circuit of Northern Ireland in 1922, becoming the first female member of a circuit.
Averil was awarded a law degree from Trinity College, Dublin in 1915, and drove an ambulance in France during WW1. As the first woman to actually practice at the Bar in Ireland, Deverall worked tirelessly to promote the view that women were equally competent to carry out the same work as men. She was also the first woman to appear in the Supreme Court of Ireland and the Court of Criminal Appeal in Ireland and in 1928 became the first Irish woman barrister to appear before the Privy Council in London.
Today, the male to female ratio being admitted to the bar in Ireland is approximately 60% to 40%, though women have accounted for more than 50% of entrants over the past five years. In 2015, there were more female solicitors than male solicitors in Ireland.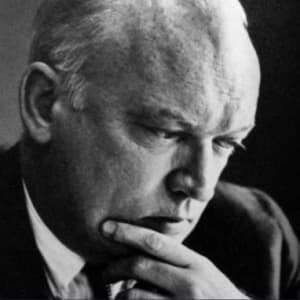 James B Donovan
The work of Irish-American James B Donovan (his Irish grandparents emigrated to the US from West Cork), has only recently gained widespread attention, thanks to Tom Hanks' portrayal of the lawyer in the 2015 film Bridge of Spies. Donovan's first high profile case came after WW2 during which he served a U.S. Naval Reserve officer and general counsel to the Office of Strategic Services (OSS), the predecessor of the CIA. This led to his key role in the Nuremberg Trials as assistant to Justice Robert H. Jackson, where he worked with film directors at the OSS to produce documentaries on Nazi activities which would serve as video evidence for the trials. Bridge of Spies however focuses on his work during the Cold War, when in 1957 he was the only lawyer who agreed to represent an individual, Rudolph Abel, accused of spying for the Soviet Union. Though convicted, Donovan ensured he was spared the death penalty and later led negotiations with Soviet mediators to free captured American pilot Francis Gary Powers in a prisoner exchange deal.
Eileen Kennedy
Kennedy was the first female judge to be appointed in Ireland when she was appointed to the District Court in 1964. After her appointment, she also created another precedent as the first female to sit in a court with her head uncovered. Judge Mary Kotsonouris, who was a solicitor's apprentice at the time, is quoted as remembering the 'frisson of excitement at such daring.' Her court was reportedly crowded for days with people attending just to witness this daring. She chaired a committee to carry out a survey and report on reformatory and industrial schools. The 1970 report was considered groundbreaking in many areas for its verdict on the system and recommendations for closures of many reformatory schools, and came to be known as the Kennedy Report. She became a member of the Commission on the Status of Women that same year, which recommended the introduction of legislation for equal pay, and the removal of the marriage bar to employment.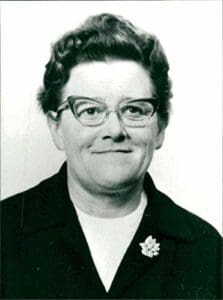 Sheelagh Murnaghan
Called to the Northern Ireland Bar in 1948, Sheelagh Murnaghan was the first practising female barrister in Northern Ireland, and was one of just eleven women to serve in the Northern Ireland Parliament during its 51-year existence, as a member of the Ulster Liberal Party. In June 1964, she put forward the first Human Rights Bill ever presented in a British or Irish parliament, though it was rejected several times.  She experienced direct intimidation and threat to life during the Troubles. In 1983, Murnaghan chaired a Tribunal which heard the very first case of sexual harassment brought before a court in the UK or Ireland, which was widely credited to have paved the way for sexual harassment to be made a criminal offence in the UK and influenced employment law in the Republic of Ireland.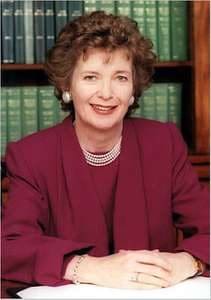 Mary Robinson
Mary Robinson was inaugurated as Ireland's first female president in 1990, after a long distinguished career as a barrister. She was appointed Reid Professor of Criminal Law in Trinity College Dublin when she was 25 years old, and founded the Irish Centre for European Law in 1988. She served as United Nations High Commissioner for Human Rights from 1997 to 2002, resigning two years from the end of her presidency term to take up the post. A lifelong campaigner, as Ireland's President she stepped outside of the traditionally ceremonial, conservative state figure mould. She has been a vocal critic of domestic and international policies relating to immigration, climate change and capital punishment. Robinson continues her work in international human rights with many organisations including the Institute for Human Rights and Business and The Mary Robinson Foundation.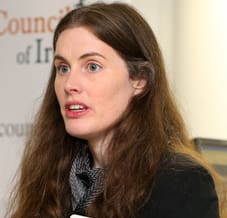 Professor Mary Rogan
An internationally recognised authority on prison policy, prison law and prisoners' rights, barrister and Trinity College Professor Dr Mary Rogan was awarded a European Research Council Starting Grant worth 1.5 million euro in 2015 for her project 'Prisons: the rule of law, accountability and rights'. The project was credited for combining for the first time the disciplines of public law and the sociology of punishment to examine inspection, oversight and accountability in prison systems in the United States and Europe. She has also pioneered community-based learning methods in legal education, having introduced the first community-based learning module partnering with nongovernmental organisations on penal policy.
Matthew Emeka Ezeani
A Nigerian-born lawyer, Matthew Emeka Ezeani founded the first ethnic minority-led legal practice in Ireland, Ceemex, in 2002. Ezeani is a qualified solicitor of the Irish Courts as well as of the Supreme Court of England and Wales, and has dedicated his career to representing the rights of ethnic and marginalised minorities. Ceemex was involved in a number of major immigration cases in Ireland, including playing a part in the legal battle that led to the Irish Born Child (IBC) 2005 Scheme, which saw full residency rights granted to approximately 17,000 foreign-born parents of Irish citizen children.
Ireland's Women's Hockey Team
In the summer of 2018, Ireland made it to the Women's Hockey World Cup Final for the first time ever. But what are a sports team doing on this list of legal history makers? It might interest you to know that five members of the team are in fact practising lawyers – Lizzie Colvin, Deirdre Duke, Nikki Evans, Anna O'Flanagan and Gillian Pinder.  Colvin is an employment law specialist at DWF in Belfast, Duke graduated in Law and Social Justice from UCD Sutherland School of Law and is a trainee solicitor with A&L Goodbody. O'Flanagan is a former McCann FitzGerald trainee and graduated in Law with Economics from UCD, while Evans and Pinder are both graduates in Business and Law from UCD Lochlann Quinn School of Business. Both Colvin and O'Flanagan have been quoted praising their colleagues and firms for supporting their sporting success.