Obelisk Support recently caught up with Carolyn Swain, a senior lawyer who is currently on sabbatical undertaking a Fine Arts (BA) Hons degree course side-hustle. Carolyn was previously a partner in a London law firm and latterly worked at Barclays as Head of Legal for Restructuring and Recoveries. Here is what she has to say on work-life balance and developing a passion outside of law.
Ever since she qualified, Carolyn has specialised in insolvency & restructuring. After becoming a partner at Halliwells LLP in London in 2003, she went in-house in 2008 and worked at Barclays for 10 years, most recently in a front office role dealing with run-off portfolios and managing remaining litigation in those portfolios.
When she was offered voluntary redundancy, Carolyn realised that she could fulfil a dream she'd had since she was 18: to become an artist. She wanted to do more than just the odd weekend painting course. For 6 months, she worked part-time and studied at the same time, then went on studying full time. She is now a freelance lawyer with Obelisk Support as well pursuing her side-hustle as an artist.
The side-hustle: Art
Her art practice principally focuses on sculpture. "Sculpture is, for me, a puzzle," she says, "the translation of a concept into a three-dimensional object takes me on a journey of discovery. That journey is both physical, in the sense of walking around the work, and intellectual, in considering how each of those different viewpoints affect the whole piece". Her current inspiration is the Möbius loop, a symbol of infinity which mysteriously allows travel along the surface of the loop which journey never reaches the end.
Her final artwork for her degree was envisaged as five möbius loops stacked on each other to create a structure over 2.5 m high. Because of coronavirus, she couldn't go into the art school workshop to complete this work and instead made a smaller model of it at home using thin acetate sheet rather than mild steel. That model showed how the artwork could have looked in the final degree show with intriguing and dramatic shadow play on the gallery walls.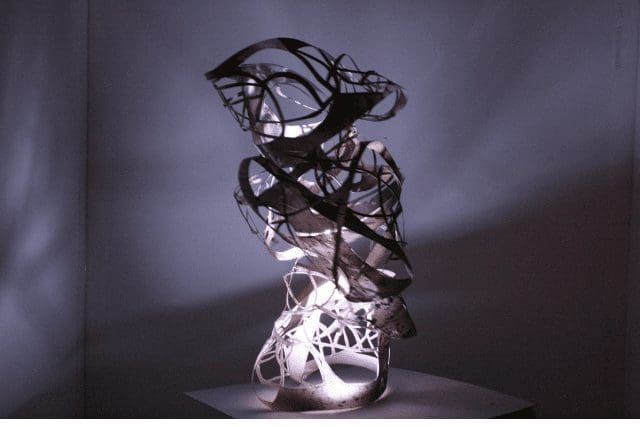 Working as a freelance lawyer
Working as a freelance lawyer allows Carolyn to pick her assignments. If she has an ongoing art project, she can decide to delay that project or not accept a particular task. This flexibility is very important for her and it is the key advantage of being outside a permanent full-time role. As a freelance lawyer, she finds that she is also involved in a much broader range of issues, which she finds very interesting.
Being a lawyer with a side-hustle
Post-graduation, part of her mission going forward, is to ensure that she doesn't lose the impetus or knowledge gained during her art degree. This is why being a consultant suits her. She is more likely to know when her work day ends. She can go out to her studio shed and continue to develop her creative ideas — or, side-hustle. Now that professional workshops are opening up again, she wants to learn about new processes for working with metal. Her next goal will be to learn about bronze casting which will move her work into a different dimension. Going forward, Carolyn is looking for more opportunities to exhibit and grow her art practice while flexibly maintaining her legal career.
Follow Carolyn
You can follow Carolyn on Instagram @carolynmerobertsonart.