International Women's Day 2022: Celebrating Women in Law
I.Stephanie Boyce, President of The Law Society of England and Wales speaks to Dana Denis-Smith, CEO and Founder of Obelisk Support on a special edition of the Apperio Legally Vocal Podcast to discuss the notable progress made and what is needed to continue accelerating the advancement of women – and other minorities – in the legal profession.
The theme for this year's International Women's Day is #BreaktheBias. Whether deliberate or unconscious, bias makes it difficult for women to move ahead. Knowing that bias exists isn't enough, action is needed to level the playing field.
Listen to learn:
The critical role of men in helping to #breakthebias and supporting female lawyers
How other minorities can learn from history to accelerate change towards a more inclusive legal profession
The importance of flexible working and managing people in a different way to remove barriers and create a more representative legal community
Why transparency and "putting unspoken rules on paper" can move the needle for increasing female representation in senior legal roles
Why more should be done to encourage young people to realise why choosing to be a lawyer can be an incredible job and a real privilege
How the Next 100 Years project is creating a proud legacy recoding the impact of women in the law
Notable progress of women in law
2021 was a year of significant achievement for women in the legal profession with many firsts as outlined in the Obelisk support Women Who Will 2021 report.
Yet, we are still far from seeing balanced representation across the judiciary business leadership and profession as a whole.
The work of the Next 100 Years project is focused on accelerating the pace of change to achieving equality for women in law builds on the First 100 Years ground-breaking history project supported by the Law Society, Bar Council and CILEx.
This ambitious project charts the journey of women in law since 1919 – the centenary of the Sex Disqualification (Removal) Act 1919 which paved the way for women to become lawyers for the first time. Future-focused, it continues to inform and inspire about the impact of women in law with a view to accelerate the pace of change through encouraging collaboration across the profession, improving the visibility of women in law and supporting the women lawyers of the future.
It builds on the 75 strong biographical films now held at the London School of Economics Women's Library,  books, podcasts, exhibition visited by over 2 million and arts commission which is displayed in court 2 of the Supreme Court.
How men can help #BreaktheBias
Curiosity. Open debate. Embracing stories of women in law to better understand other perspectives. Asking questions. Not fixing people in time.
Dana explains the critical role that men play in advancing the women in law and supporting talented female lawyers to contribute to the legal profession throughout their lives.
Building on lessons learnt – how minorities can accelerate change
Many minorities today continue to face challenges that women in law faced 25 years ago. In this podcast, Dana explores how lessons learned by championing women in law, can be harnessed by other minority groups so that the pace of change is sped up.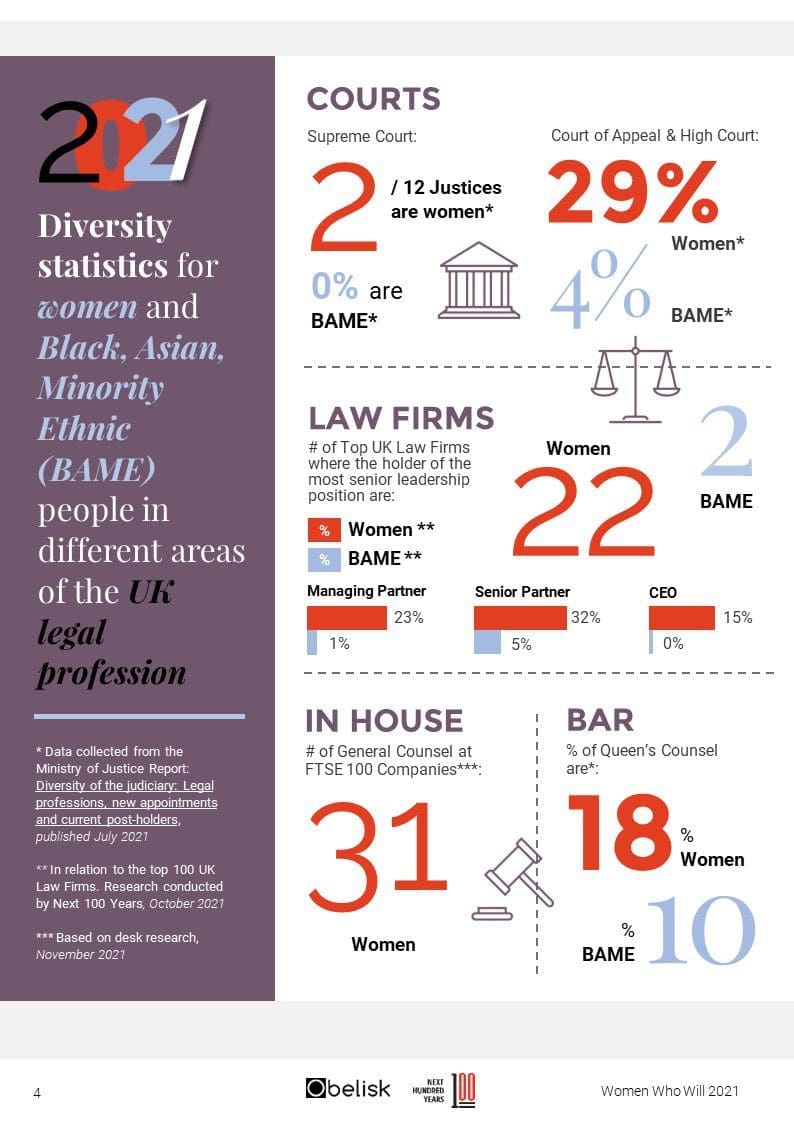 Removing key barriers to progression of women in law
A lack of flexible and remote working options have been cited as the main barrier to progression of women in law.
Dana drives home that homeworking in a crisis is not the same as enabling people to work flexibly. According to her, the pandemic accelerated an acceptance of remote and flexible working. Embracing a more inclusive work culture and managing people in a different way is critical to building a future focused profession where men and women have true equality of both opportunity and outcome.
"One of the biggest barriers facing women staying in the profession is flexible working…we must embrace this more and inclusive way of work."
Demystifying paths to progress for senior women in law
How is success measured? How can success be achieved? What makes a good leader or partner? Why should one want to be a partner?
Dana advocates for more transparency around the partnership model on what it takes to become a partner and top-down communication addressing the questions above. In this way, she explains, women can exercise choice and better understand what they need to do to prepare to become a leader in law.
Women in Law: Looking to the future
According to Dana Denis-Smith, being a lawyer is a real privilege – and we should encourage more young people to consider choosing the legal profession as a career. It provides a unique opportunity to use one's skills to fight injustice a reality.
Yet, despite a sense that the law is in fact ahead of some other sectors in looking to build an inclusive, equitable and diverse profession, Dana is very concerned that more is needed to make access to the profession wider and more enabling.
"It is getting more and more difficult to enter [the legal profession] and qualify which can put people we need in the profession off trying to join the law."
About the Apperio Legally Vocal Podcast
The only podcast giving legal teams insights, predictions, and provocations from leading legal experts with a real point of view. Apperio founder and CEO, Nino d'Adhemar invites industry experts to share their views on the issues facing our profession today, and how it could take shape in the future.
Watch further episodes here