What do most people picture when they think of what a women lawyer wears? If we go by popular culture, a super sharp black skirt suit with a luxuriously alluring white blouse usually comes to mind. How well this reflects reality is up for debate, but workwear for women in law has historically been something of a battle ground, and remains an unnecessary stress point for women in law today.
Workwear for Women Lawyers: Then and Now
As reported by this First 100 Year's post, the fight for women's suffrage, women's fashion in turn began to emulate traditionally male styles, with sober suits included as a symbol of the new independent woman. However, the legal industry was still always one step behind, and until recently even the sight of a woman lawyer in trousers was considered risqué!
Today, as the wider office culture becomes more casual, with the suit more often reserved for high level meetings, how has the legal industry adapted its dress expectations, if at all?
Thankfully attitudes to women wearing trousers have mostly relaxed, but women in the corporate and professional setting still face additional societal judgement on their performance and leadership based on what they are wearing and how they present themselves. Only last month, a study found that people judged women who wore more makeup as having weaker leadership skills. At the same time, the sober suit that was once adopted by women to signify their liberation, has evolved into the uniform of the stifled, stuffy corporate identity.
The Pressure to Conform
Lawyers as a whole are spending an incredible amount of time and money on workwear. The high spend however does not necessarily mean that workwear for women in law is being treated as an enjoyable indulgence – in fact quite the opposite. There is the suggestion that many lawyers do not find it easy to dress themselves for work, spending an excessive amount of time – up to three months of the year – deciding what to wear, and are viewing sartorial choices for work as a stress point. There are two sides to the issue: law is typically seen as high paid, particularly in practice, and there is pressure to conform to high standards of dress for all genders and levels of employment. However, at the same time, there are wider culture changes with more allowances made for individuality in the workplace. Smart casual is that dreaded catch-all term that means different things to different people, so navigating expectations can become even more of a minefield even though the dress code is in fact 'relaxing.' Add to that the additional scrutiny that women face on how they present themselves, and workwear for women in law can become a real drain on mental energy, as well as the pocket.
Female Lawyer Workwear: A Fashion Expert's View
How have fashion observers seen attitudes to workwear trends in law evolve? We talk to fashion expert Emilie Chanteloup, co-founder of digital magazine Imaginealady.com, who tells us what she is seeing in women's approaches to workwear in the corporate and professional workplace.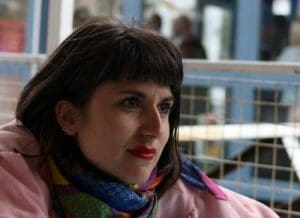 "In people's minds, the professional workwear dress code is typically a suit," says Emilie, "and jackets are must-haves in any situation. But the question now is: is the suit really essential for a conventional client meeting?"
Then there is the question of colour. "Black, grey or navy are used by all women struggling with the 'what to wear' dilemma every morning," Emilie observes. "Dark colours, base suits and white tops; are often how you can describe a workwear outfit in a law firm. Sometimes, they may attempt to go a bit out there by wearing a polka dot or cream shirt and get comments on how they look 'different'. However positive or negative the comment can be, it's still a comment and it can easily bring down a woman's confidence. That may sound extreme, but the reality is in our Imaginealady street fashion stories, most of the female workers from law firms I meet mention the fact that the weekend is the time where they take back their freedom and allow colour into their outfits."
What of the money being spent on work clothes? "Each week, 5 days out of 7, those women are having wardrobe frustrations because of the social pressure in their work environments. When Vogue, Elle and other fashion magazines talk about the last workwear trends and how to follow it, lawyers and women working at law firms are not even allowed to wear a bright yellow silk shirt with their black suit, creating a big gap between magazines and real life. So, how can you spend such a crazy amount of money without being a fashion follower? The answer is simple: the money goes on expensive pieces. Suits can cost nearly £600 with alterations or far more if they're tailored. This is then justified as it gives people more confidence to wear an expensive brand suit. If nobody starts the workwear revolution, in 20 years from now, the workwear will still be described as the boring uniform to look like all your colleagues, while still spending a fortune. Wearing something is all about showing a part of who you are and who you want to be. So why hide your identity at work?"
Emilie touches on a very good point. In an industry where women still feel the need to work that little bit harder to be taken as seriously as their male peers, something as slight as the colour of their shirt is often seen as a risk to their professional identity. Female lawyers may find themselves dressing to make themselves more invisible to avoid unjust scrutiny of their presence and appropriateness in the workplace. This reality differs greatly from the broadly held view in the fashion world that traditional professional dress codes are on the way out.
Changing The Approach to Workwear
Dressing for work should be a more enjoyable part of our working routine, not another stress point. When you put on an outfit, it should be an easy decision that enhances your mood and prepares you for work; the clothes you wear should represent you as an individual, the pride you take in your work and what you hope to accomplish during that day.
Marianna Ferro, CEO of Flair Atelier online fashion tailoring portal, agrees. "It is difficult to generalise, women tend to be less aligned than they used to be when it comes to workwear. It's safe to say that women working in creative sectors tend to go for bolder option, while others working in more formal office as banks or law firms tend to purchase updated versions of the classic little black dress. What is definitely happening is that women more and more are leaving behind the grey and dark blue formal suits at work and they are less intimidated about showing their feminine side. The trends we see are all about keeping it professional, without losing your identity. Whether it's a classic cut in an unexpected colour, or a statement piece to complete a formal look, workwear is now a mix of confidence and comfort: crease-free fabrics, well-considered cuts, overall quality that make you feel great throughout the day so you can keep your focus on achieving, and not just appearing."
The Bottom Line
Our choice of what to wear has never been broader, but many women lawyers are still expected to fit into a very narrow box of expectations. There is nothing wrong with one or two nice suits, but it can no longer be held up as the defining feature of a lawyer's wardrobe. As women are becoming more ever-present and visible in the higher echelons of the legal profession, we can hope that more individuality and indeed, colour, will follow, as women lawyers are no longer judged as a category but on their individual identities and merits. There are enough pressures on our shoulders. The less time we are forced to spend worrying about what to wear, the better for all.