At a recent client event, Obelisk Support welcomed one of our most interesting guests to date–Claudio Illuminati, Michelin star chef. On the surface, it may have seemed that chef Claudio did not have much in common with our audience of general counsels, but through candid anecdotes and quiet confidence, he drew some very interesting parallels between the culinary life of high-pressure kitchens and the law.
Claudio is an Italian chef, who has led some of the most prestigious kitchens in London and Italy, including the Michelin starred-Zafferano. Today, he works as group chef/research and development at Tom Aikens Consultancy Ltd. So why would a high-flying chef be the right person to talk to an audience of lawyers? Here are some of the parallels we drew from his fascinating talk.
The Passion Began with an Innate Attention to Detail
"I started my chef career with my mum", Claudio tells us. "Being Italian you eating all the time, everywhere, plus you are helping your Grandma and mum when you are a kid. My mum used to be a chef, so I started practicing with her. I started a chef scholarship and worked in a pizzeria and at weddings during the weekends, and that's when I started to love it–the attention to details, the perfectionism, the consistency through services over and over. I was fascinated to see this mechanism working so well, so I said to myself, I want to do this on a high level.
"I have worked at Le Gavroche, Cielo restaurant–where I was head chef at 21 years old–then worked at Tom Aikens, Bluebird, and Shoreditch House. I am now back with Tom Aikens, working on a new project creating an online database of recipes with their ingredients, weights, prices etc. to be used worldwide in every single one of his restaurants. Having this database will not only help to have more consistency, but will also help the chef and the floor staff training to be more confident, following a procedure created especially for them."
The Legal Angle
A lot of people in that room, and reading this piece, could probably relate to an early desire to learn every fact, opinion and issue surrounding a topic, the need to annotate every book or document that we come into contact with. Having the patience and attention span to familiarise oneself with the details and build extensive knowledge of every ingredient, method and condition matters as much in law as it does in creating a recipe, or researching and collating the information required to better run an entire chain of high class restaurants.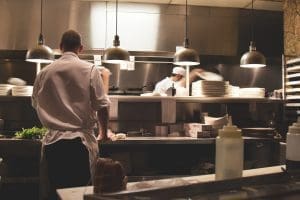 A Career of Sacrifice
"Our life come with sacrifices", says Claudio. "As soon as I finished I started to work in Michelin star restaurants, first in Italy and then decided to move to London for the language. When we are young we get so used to pushing hard, waking up at 5.30 am to go to work, and if we are lucky we might catch the last Tube home. Go home,  shower, eat something watching some TV and sleep for few hours; this is our normal. We spend 90 to 100 hours per week in the kitchen leaving friends and family behind. Ask a chef how many friends he has, I'm sure he will mention his colleagues and not many others that he sees often."
Claudio recalls a conversation with Raymond Blanc, who lamented that his young kids couldn't recognise him as they never seen him, as he was in the kitchen all the time every single day. "Yes, he became who he became but at what price? He was telling me this story with his eyes shining with emotion and I could understand why."
The Legal Angle
BigLaw lawyers will relate to the long office hours, late nights spent researching topics and drafting client documents, internal and client meetings, as well as weekend and summer vacations emergencies. They are no stranger to personal sacrifice and the fact that they have drinks with colleagues more often than with friends. Which brings us to the next point.
Recognising the Need for a Better Work-Life Balance
The professional kitchen is, like the law, showing signs of change to take into account well-being and the need for balance in the lives of its workers. Claudio's own priorities changed when he became a father.
"When my son arrived I decided to take a step back for  a couple of years. I couldn't keep up working so many  hours and not seeing him growing and teaching him what my father taught me. I started to work in places where the quality and consistency were still really good, but you shave some sort of life that you could enjoy. It was the best choice I made in my life. I learnt how to put importance on little things such as having a good breakfast together with my son and my fiancé, the importance of story time, taking him to school every morning or cycling here and there with our bikes."
Claudio has also seen a shift in the work culture of the kitchen, in a relatively short space of time. "Nowadays there is a better work/life balance is in our kitchens, though the hours are still long. We still sign our contract opting out to work only 48 hours a week because we know that never happens–we know our normal day will still consist of a 15 to 16 hour shift. But there is so much that is much different, even compared to 6-8 years ago. We work a bit less it's true, but mainly we don't work with the fear, when the kitchen was like military training. That said, we still use 'yes, chef' as the traditional way to answer where necessary–it's more of a way of keeping our moral up during the day!"
The Legal Angle
In the legal profession too, the focus has shifted from late hours being the norm to more flexible hours and striving to a better work-life balance. It used to be that evening plans usually got delayed and sometimes cancelled. Nowadays, people–and particularly, millennials–no longer want to spend more time with strangers than with their family and refuse to be systematically late for their friends' events.
A Profession Subject to a Lot of Criticism
Claudio says, "When you have your name on the door as a chef, people will talk bad or good about their experience, regardless of whether it's a Michelin star or a gastro pub. People love to criticise the restaurateur and chef more than anybody else, for some reason. We offer a service just like lawyers do. Maybe because everybody can cook or can serve a glass of wine, maybe that is the reason why people criticise."
The Legal Angle
Similarly, the legal profession comes under a lot of scrutiny and outside criticism – some of it necessary and justified, but often it comes from a position of a lack of understanding of what we actually do and what goes into building a case and making legal decisions. We often have to strike a balance between maintaining a good relationship and level of propriety and protecting important and sensitive data, and trying to help people understand why we take a certain approach.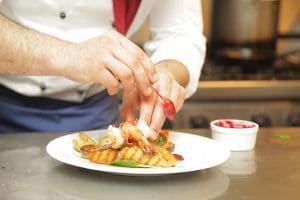 Everyone is a Cook, but Only a Few are Chefs 
What is the difference between a cook and a chef?
"Everybody can come up with a dish", says Claudio. "When you are home and you haven't done your shopping, you open your fridge, and you start thinking 'I could do this with this, or you look up a video online. You create a dish… you'll eat it, you'll serve to your kids and your wife/husband and they love it. You get a sense of satisfaction that you created something you were not sure about and it worked great. Multiply that by one thousand and you get what a chef feels when he create a menu that customers loves."
The Legal Angle
Constantly putting in the time, energy and effort to solve a problem and meet client needs takes fortitude. There are a select few who not only are prepared to take on the challenges of working in the law, but who also gain a deep and emotional satisfaction from solving a complex legal problem and helping people in the process. The rewards are far greater than the sacrifices, and that's what spurs us on.
Keeping Up with the Times
When asked if chefs would be ever replaced by robots, Claudio said that, "the thinking and judgment element of the job is unlikely to be replaced by a machine. Yes, some kitchens use "automation" for simple tasks like peeling vegetables, etc. but even then, only if there's not enough time to do it by hand."
The Legal Angle
In law, simpler jobs are done with the aid of AI and the rise of legal tech tools attests to this trend. The buzz word is streamlining, as in streamlining processes and automating simple repetitive tasks. However, complex questions are still very much the realm of highly-skilled brains and to navigate through multiple requests from various business units, companies need a competent legal team in-house, supported by solid outside specialists.
A big thank you to chef Claudio for speaking to us in The Attic. You can find out more about him on LinkedIn.