Women in law: Two decades. Two perspectives.
During March, in which we celebrate both International Women's Day and Women's History Month, we spoke to women at different stages of their legal careers to get their views on what has changed for women in law, their hopes and aspirations for the future of the legal profession and what action is still needed to continue championing for equity and an inclusive legal profession.
We explore what has changed (and at what rate) in the intervening two decades between when Clare Belcher, Group General Counsel at Equiom, now nearly twenty years qualified, entered the legal profession and Khadija Patel, GDL student and future trainee solicitor as she embarks on her legal career journey – and whether their hopes and actions for the future align.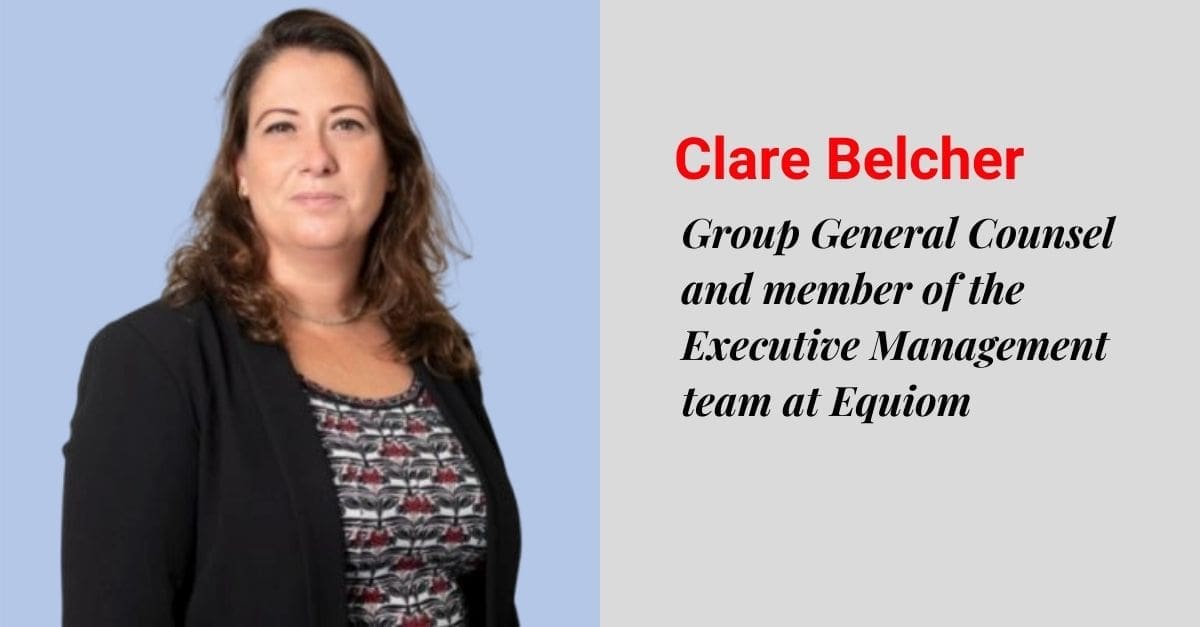 Studies: LLB University of Bristol, LPC Nottingham Law School
First role: Corporate Finance/Mergers & Acquisitions,
Raising awareness of women in law: The importance of female role models
One of the notable positive changes is that law firms are increasingly supporting making female role models more visible and accessible through formal programmes, charities and projects. Law firms are also increasingly actively celebrating, not just acknowledging, that balancing a family and continuing to work is accepted, supported and achievable.
Describing her recent vacation scheme placement (at the end of which she was offered the training contract place), Khadija Patel shared that presentations included a focus on Diversity & Inclusivity, with the firm introducing senior women, including those who had successfully returned from maternity leave (both at associate level and partner) to prospective trainees as role models.
"There are so many wonderful and inspiring female legal professionals," noted Khadija, who also shared that she sees no disparity between men and women in her day to day at law school. Of the five prospective trainees for her firm at law school studying the GDL, all are female, and in figures that compelled her to choose her firm, 61% of her chosen firm's associates are women, a figure which reduces below parity only at partner level (to 28%), "although that is better than some firms."
Contrast this with General Counsel Clare Belcher's experience.  Describing her career move at 5 years PQE to an in-house role, not even 15 years ago, as in part because she "couldn't see any female role models who successfully balanced their family and work. Back then it was a struggle to be accepted as someone who wanted the flexibility to be actively involved in raising my children but who also wanted to achieve an executive level career."
The positive impact of social mobility programmes
For Khadija, mentors and sponsors have been part of her life ever since she first considered corporate law as a career. During her GSCEs and A-levels she was able to access a variety of mentorship and intern schemes. These were sponsored in part by city law firms looking to increase awareness by making their staff and lawyers visible to talented students, often from minority backgrounds, in some of London's more deprived boroughs and state schools.
That is a huge change compared to Clare's experiences of the same period: "As a comprehensive school attendee with no family members in the legal profession" she described feeling out of her comfort zone when surrounded by her private school peers "at university, working in the City and at the executive table".
"The work that the
93% Club
are doing around social mobility is truly inspirational and I wish this support had been around when I was at school and university. Both the
SRA
and many law firms are now widening access to the profession and the greater diversity this will bring will be for the benefit of all."
And it seems to be working. Khadija's quiet confidence in completing her education and starting work full time did not appear to harbour doubts. While she identified in her mind that the typical profile of a lawyer might be one that went to a good school, obtained good grades, and had plenty of opportunities, (and as they become more senior, increasingly male) she did not consider this meant exclusively private school, and, also noted that with the pandemic cancelling exams, the idea of [not] hiring solely by grade may become a permanent change.
The key role of male allies to achieving equity for women in law
Clare highlights the important role men play in building an inclusive legal profession. She highlights having had "the support of some fantastic male leaders" during her career journey who were notable in that they "cared more about the value I could add than the office hours I worked". She observed that this is something she has tried to emulate as a leader and has "actively encouraged [her] team to take up paid parental leave policies and not to rule themselves out of opportunities because of the way they want to deliver their role".
"At Equiom, I have found my spiritual home in an environment supported from the top by our CEO and Executive Team where all employees have the option to choose their own working patterns so they can better manage their work and home lives and a policy of unlimited annual leave. I no longer need to feel guilty about flexing my work hours around my family or personal commitments and have the freedom to deliver my role my way".
The next frontier: Encouraging more women leaders in law
Khadija noted that all the law firms she had encountered both in terms of work experience and training contract applications are doing a great deal to be perceived as inclusive – a significant shift in the last two decades. Yet, she acknowledged there are still barriers left to overcome, particularly on the notable lack of parity at partner level.
Referring to this as the 'motherhood penalty', she noted that despite firms efforts to show that women do return, "until men are fully allowed to share the caregivers role", she feared it would always fall to women to bridge the gap. Whilst Khadija noted this challenge was not specific to the legal industry, she believes "firms should be supporting working parents as a whole, not just mothers" and there was definitely more to do to include fathers.
"There is nothing perfect about the current system; it is a penalty for working mothers. One solution might be a more gender-neutral approach to parenting from firms, as I don't think we should make assumptions about who is allocated what caregiving roles."
Clare agrees with Khadija: "there are still too few women at senior executive level in the legal profession, both in private practice and in-house. More visible role models are needed as well as transparent and unbiased hiring and promotion processes. Individual coaching support around maternity transition is also crucial".
"We need to continue to challenge society's perception that women should do more at home and with children than men. I have faced just as much challenge from those outside the legal profession (and outside the school gates) judging my ability to deliver a demanding executive role whilst having a family as from within it".
Women in law. Hopes for the future
Khadija's hope is that law firms and in-house teams might reach their goals on the gender pay gap, while "never being a legal profession which feels like it has got there but one that is constantly striving for more". She feels "optimistic" based on "how much more attention is being paid to these important social issues".
She hopes that firms and teams might be able to "take braver steps in trialling [innovative] programmes and solutions to make things better for everyone, rather than saying 'we've never heard of someone doing that'. As the legal industry does seem able to embrace massive change such as implementing legal technology, and flexible/ remote working, I have hope that things will be different in the future."
For Clare, her future hope is that the legal profession can continue to evolve in the way it embraces inclusivity, equity, and diversity so it can truly harness the value this can bring to both legal service providers and their clients".
She also believes that women in leadership have a particular role in shaping the future of the legal profession: "Women in leadership in the legal profession have an obligation to inspire future generations of women to want to join it, thrive in it and lead it. In the words of the late Madeleine Albright, 'there is a special place in hell for women that don't help other women'".
At Obelisk Support, these hopes are encouraging. We have always believed that nobody should choose between life and work. We're passionate about making legal work more inclusive and championing the benefits of flexible legal services for clients and legal consultants. The win-win is obvious. Legal teams, law firms and growing businesses gain from highly experienced, expert legal consultants that want to work differently, helping keep great talent in the industry. Legal consultants can continue to follow their vocation, support their families, and pursue portfolio careers.
How each of us can champion women in law
#1 Be visible
"The best way to champion inclusivity and diversity is to live it and shout about it", says Clare. "I encourage all leaders to be visible and honest about their struggles during their career journey and to be open and proud about the things that make them different from others".
#2 Offer your skills as a mentor / take up mentorship
"Sponsorship, mentorship, and reverse mentoring can all really help in our understanding and acceptance of each other and make the difference in an individual's career success", says Clare. "I try and actively support those who are different to me in their legal career paths".
#3 Build a diverse team
Clare notes, "I really value the creativity and energy a diverse team can bring. Always try to recruit people with different attributes, backgrounds, and skills – acknowledging that this can often make my life as a manager more difficult to bring those different people together – but in my experience it always produces better collective results".