Mental health – a growing priority in the legal profession
On Monday the 10 October, we celebrated World Mental Health Day (WMHD) 2022 and this year's theme of 'ensuring mental health and wellbeing for all becomes a global priority'. The topic of mental health has gained substantial traction over the past decade, with organisations worldwide demonstrating their commitment to the wellbeing of their employees. The legal industry is no different. There has been a growing body of research that the accepted working practices and culture in law undermine mental wellbeing. Back in 2018, a survey by the insurance firm Protectivity confirmed, the legal profession is the second most stressful profession in Britain, with 63% of respondents reporting they suffer from stress daily. Similarly, a report released by the International Bar Association in 2021 revealed that legal professionals' mental wellbeing is a global concern.
LawCare – the mental wellbeing charity for the legal community, highlighted in their Life in the Law report released in 2020/21 that 69% of participants surveyed reported they had experienced mental ill-health in the preceding 12 month before completing the survey. To take action, most recently LawCare teamed up with the Law Society of England and Wales to call for a change of culture in the profession, to mark the start of Mental Health Awareness Week earlier this year.
"The onus is often on the individual to 'fix' their mental ill-health. In truth, we have a collective responsibility to make a positive work environment for everyone."
Mental health support for all: LawCare's Tell Ten Campaign
This World Mental Health Day, LawCare launched their Tell Ten campaign, to encourage people to tell ten colleagues or friends in the legal industry about the free, confidential peer support offered by LawCare.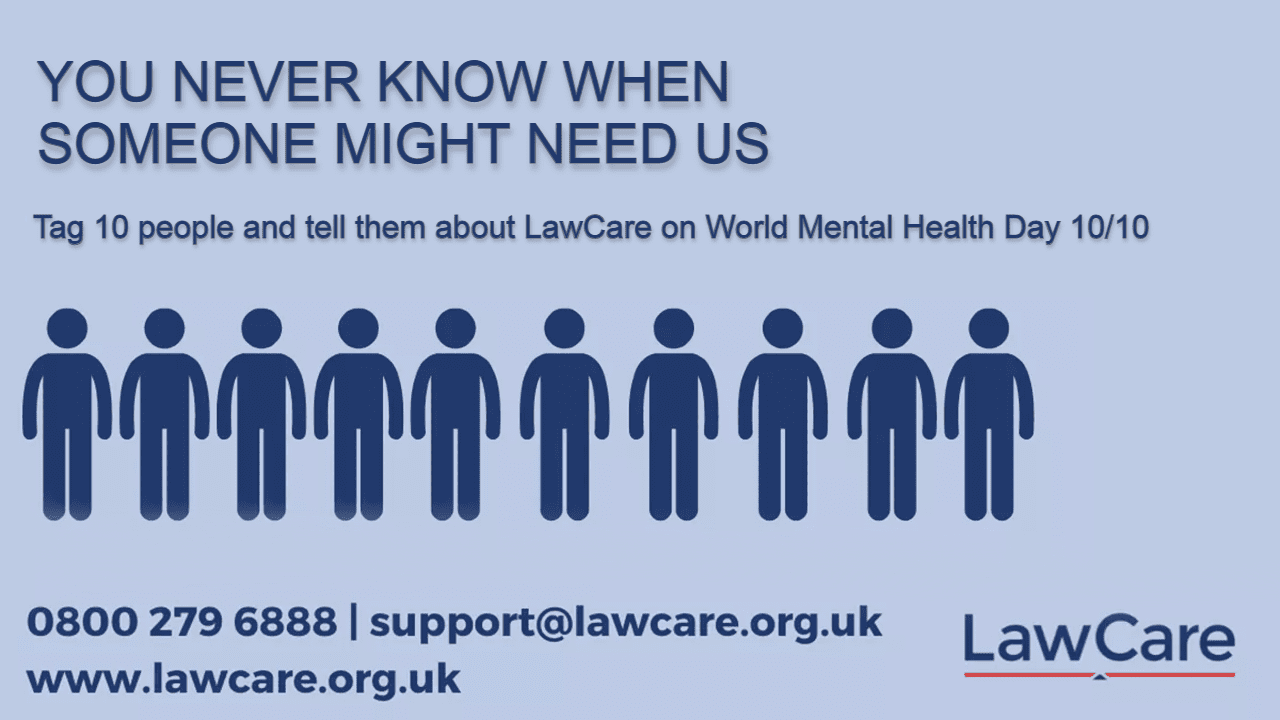 10 reasons to contact LawCare
As World Mental Health Day falls on the 10th day of the 10th month, here are 10 reasons LawCare can support your mental health during your legal career:
1. They get it
Everyone you'll speak to on the phone, email or online chat either works in, or has worked in the law. They understand life in the law and all its challenges.
2. Confidentiality
Their service is completely confidential, you don't even have to give your name.
3. No problem is too small
You can contact them about anything at all – from a bad day at work to something more serious.
4. The personal touch
They offer one-to-one peer support for those who need a bit of extra support over a period of weeks or months.
5. Support for the law
They support anyone working in the law in the UK, Channel Islands and Isle of Man.
6. More to offer
Their service is also available to law students and support staff. You can call them if you are worried about someone else.
7. A wealth of knowledge
They have 25 years' experience in supporting the legal community and have helped over 10,000 legal professionals to date.
8. Going the extra mile
In some circumstances, they are able to provide funding for single session therapy or a course of counselling with a counsellor or therapist.
9. Success
98.5% of people who have used their support service would recommend LawCare to others.
10. Free of charge
It's completely free of charge to access LawCare's support service.
"It can seem overwhelming, but all of us can make small changes every day to make the law a healthier and happier place to work, such as acknowledging some of the challenges working in the law presents and treating each other with respect and civility."
Interested in contacting LawCare?
You can contact LawCare on 0800 279 6888, email supp[email protected] or access online chat and other resources at www.lawcare.org.uk.
Join the Tell Ten campaign for World Mental Health Day and tag 10 colleagues or friends on social or send an email or text & let them know about the free, confidential service LawCare offers everyone working in the law.
You never know when someone might need them.
In conclusion
At Obelisk Support we are proud to champion flexible working to help keep great talent in the industry.
We believe nobody should have to choose between life and work which is why we're so passionate about making legal work more inclusive and we're on a mission to spread the word about the benefits of flexible work. We understand not everyone wants to work for one company as a full-time employee. Whether you are looking to balance your professional and personal life, to develop a portfolio career or simply don't want to be tied to set hours in one place, we are for you.
Through established partnerships with blue-chip companies, growing businesses and large law firms, we can deploy you on interesting projects that make the most of your skills and experience.
In turn, for legal teams we deliver flexible legal services, staffed by a community of hundreds of highly-experienced legal professionals – helping you deliver better results, manage your costs and be more productive.
Learn more about how we are helping lawyers and legal teams achieve better work/life balance.