How are women lawyers portrayed by British TV writers?
We looked at how American female lawyers have been portrayed in US TV shows, reinforcing the success of female lawyers as a working norm, influencing lawyers of both genders.
So now we look at key female legal characters from the 1990s onward, which are still few and far between. Only this month, lawyers have suggested that more fictional women lawyers on British TV at the bar are needed to inspire women to become barristers. Chambers and Partners found that improvement towards parity is slow, with only 23.6% of 7,409 barristers ranked in the UK being female, compared with 17.3% in 2010.
Anna and Milly (This Life)
All images © BBC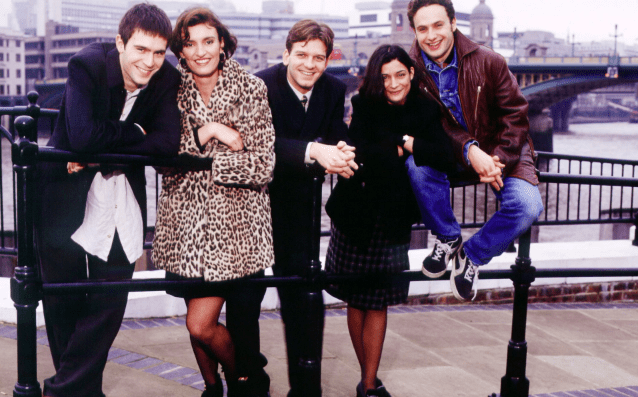 This Life became a cult 90s TV show, following the antics of a group of young lawyers who live together as housemates in South London. The two series followed the groups' various professional and personal ups and downs. 
Amy Jenkins, who did go to law school, captured the zeitgeist of the 'Cool Britannia' era with her script and created themes that went on to define some of the best TV writing of the 90s including Cold Feet. Broadcast in 1996 and 1997, This Life featured an ensemble cast living the 90s hedonistic lifestyle of successful professional lives combined with chaotic private ones, all to the backdrop of a Britpop soundtrack and the politics of New Labour.
Anna and Milly, a barrister and solicitor respectively, were both ambitious young women, determined in different ways, finding their way in the working world. But what viewers loved about This Life was that it wasn't set in the courtroom. Anna and Milly weren't out to save the world or even their clients. These were brilliant, middle class, university-educated women who behaved like the people watching, not heroes. They were relatable, made mistakes along the way, but were ultimately working as professionals – not secretaries. No-one wanted to be Miles, the good-looking public schoolboy character, but Anna inspired many women to want to head for a career at the bar.
Martha Costello (Silk)
Silk came along more than a decade later, in a new political landscape, with the first episode broadcast in 2011. Written by Peter Moffat, previously a barrister, Silk was a more obvious, serious legal drama even with a deliberate overlap between the professional and the personal.
Contrasting with the partying of This Life, Silk concentrated on the Machiavellian politics of life at the criminal bar around a fictional set of chambers, including hard-fought decisions, ethical dilemmas, sex, drinking and the general pressure of too much work for too little pay. 
Martha Costello is in many ways the cliched single, female, ambitious lawyer, focusing on becoming a QC and doing her best by her clients. At 37, Martha is a world away from the early 20s Anna and the ladette culture of the 90s – although no less steely – but this is the legal world post-2008 financial crisis with a new coalition government chipping away at legal aid. 
The series explored her rivalry with fellow members of her criminal set, her nuanced relationship with her clerk and her personal battle for seeking justice for her clients and causes she believed in. Martha was a more grown-up, realistic inspiration for women at the bar – not as glamorous perhaps as her US TV counterparts, although, in fairness, the white shirts, wigs and gowns of the Criminal bar aren't really set up for glamour. 
Hannah Stern (The Split)
For more slick and shiny legal inspiration, along came The Split in 2018. Not set in the criminal bar but rather the equally dramatic family court, viewers were spoilt for choice for women lawyers on British TV inspiration with a whole family of lawyers. 
Ruth Defoe, the matriarch of family firm Defoes refused to step aside to let Hannah, the responsible older daughter take over, so Hannah left and joined a rival firm as a partner. Hannah's younger sister Nina, meanwhile, continued to work at the family firm while the youngest sister Rose is about to get married. Unlike both This Life and Silk, this time we get to see women combining a legal career and motherhood.
Written by Abi Morgan, The Split is again full of professional and personal drama, but this time, everyone is related. When does a personal family spat become a professional issue? 
Hannah, in her early forties, is battling responsibilities in a way that will be deeply familiar to many: ageing mother, absent (then re-emerged) father, husband who also has a career, children who need more attention than she has time to give, a colleague with whom she once had a thing, and who makes it clear he'd quite like another thing. Oh, and work. Work at which she is clearly very good – Hannah shows us that you can be an ordinary woman with ordinary issues and do well at work too, even if it isn't always easy.
Caroline (Defending the Guilty)
Back full circle to the tried and tested ensemble of barrister's pupils in Kieron Quirke's Defending the Guilty. Lawyers in real life are split as to whether Defending the Guilty is exceptionally funny or deeply unrealistic. Based on Alex McBride's book of the same name, in theory, this series questions how it is possible to defend someone who is guilty, but in reality, focuses more on the comedy and despair of eking out a career at the criminal bar, a cog in the wheel of the creaking justice system, and the challenges of making your mark in a highly-competitive industry.
Caroline, the 40-something pupil master of one of the new pupils competing for pupillage, is an unlikeable but no-doubt familiar character who spends the series toughening up her pupil, Will. Will is wide-eyed in his apparently naive pursuit of justice but being a barrister, as Caroline reminds him time and time again is not about justice, it is about winning. 
Where Hannah in The Split was already a partner in a law firm and battling balancing responsibilities, Caroline's harshness hides insecurity and a desire to succeed as a QC. Asked to speak at an event to other women in the law, she finds it hard to recall why she even liked being a barrister, let alone what positivity she could bring to those younger than her. And, once again, we are presented with a portrayal of a woman whose career leaves no room for family life.  
With both The Split and Defending the Guilty recommissioned for a second series, it is encouraging to see more women lawyers on our screens and we look forward to seeing more women in higher positions – perhaps even a character inspired by Lady Hale will make an appearance.