At Obelisk Support, we work more and more with legal operations departments in companies and recently attended a CLOC event in London. There, we met Aine Lyons, head of Worldwide Legal Operations and Chief of Staff for VMware's General Counsel. VMware is a global leader in cloud infrastructure & digital workspace technology. In addition to her day job, Aine is also a regular speaker and writer for the Association of Corporate Counsel (ACC) on legal operations topics and is the founding member of, and European lead for, the Corporate Legal Operations Consortium (CLOC).
Aine graciously agreed to share her experience and words of wisdom on what it means to work in legal ops in 2018, as well as how businesses can benefit from a legal ops infrastructure.
What Do You Do and How Long Have You Been Doing It?
Aine Lyons: I've been in-house counsel at several technology companies. Until recently, I served in traditional lawyer roles: substantive legal issues and business advice. VMware hired me for my legal expertise in 2007. But, in 2010, while I was serving as the GC for EMEA our new GC asked if I was interested in a legal ops role, and I responded: "absolutely not." I was concerned about moving into a career path that was still in the nascent stages for the industry.
VMware is headquartered in Palo Alto. The GC was based there and knew that the legal ops role was emerging in Silicon Valley. I was, and remain, in Ireland. At the time, I'd only vaguely heard of legal ops and did not know much about the scope or impact of the role.
My GC asked that I come over on a fact-finding mission. That's when I encountered the core of what would become CLOC. In the beginning, there were only 10 to 12 of us, but it was clear to me that my GC had identified something transformative. My hard No turned into an emphatic Yes. We created a global legal ops role. I founded a team. We now design and deliver the strategy and critical infrastructure for a 167-person legal function spread across 26 different locations around the world to deliver innovative legal services that truly drive's company success.
What is Legal Ops?
AL: Legal ops is the professionalisation of management within a legal department. It is a multi-disciplinary role responsible for optimising legal service delivery. Or, in common shorthand, we're the ones who run legal like a business and find ways to do more with less. Essentially, we are change agents that transform legal functions by convincing them to operate differently. We disrupt the status quo and are the urgency drivers for GCs to transform their departments.
Legal ops' core premise is that legal expertise is essential to business outcomes—there are no legal problems, only business problems with legal dimensions. GAP is a business challenge that Legal helps the business to navigate. Our mandate is to leverage that expertise through process and technology so we, as a legal function, can meet the intertwined business challenges of scale and complexity. We ensure lawyers are put to their highest and best use – that requires being a catalyst for change.
Legal ops professionals are systems engineers: We're designing the legal department of the future. We're finding ways to eliminate drudgery and maximise yield from available resources. Again, legal ops is multidisciplinary – it includes leveraging business intelligence, managing outside spend, allocating internal resources, and creating technology-infused, scalable solutions that can bend the legal cost curve.
How Does Legal Ops Fare in a Global Tech Company?
AL: I've been in role now for six years and I'm loving it. The key of successful legal ops is being able to influence other senior leaders and create buy-in. You can't do legal ops on your own. Achieving operational excellence is a team sport.
I'm responsible for maintaining and iterating on the department's long-term strategic vision. Two years ago, we had a big reflection on our identity. Who are we? We changed our mantra to 'fearless legal innovators.' We wanted everybody in the department to have the same DNA around law. We wanted to break the mould.
My sense is that the audacity of ambition is easier at a tech company. Innovation is a core competency here. Experimentation is inherently valued, but that still doesn't make it easy. We've had the good fortune to win several industry awards. Awards, however, can be misleading – they are highlight reels, they obscure a messy reality.
Part of that reality is that successful tech companies, despite all the unique cultural attributes emanating from Silicon Valley, operate with rigor and discipline. We have an acute focus on the bottom line. Every quarter, we get a specific budget and are asked to become more efficient. Each following budget has to be +/- 2% from the previous budget. This forces us to think outside the box and to use new technologies.
As guidance each year, we take the CEO's goals and see how they can be applied to the legal department. One such goal was to improve the customer experience, so in legal we took it as improving the legal contracting experience. Many business functions wanted to understand what we'd agreed to with their partners. The legal team broke down the core revenue contracts into their component parts and rebuilt them as modular templates. This led to contract automation for standard contracts and now, we have handed this aspect of the business over to other departments. As a result, the legal team works on non-standard contracts and has worked hard to develop a robust, automated contract workflow that has cut drafting times in half and reduced escalations by 74%.
Our overarching goal is to bring value to the business and contribute to the global growth. Without goals, it's difficult to articulate what we bring to the business. Everything we do in legal is aligned to our business priorities.
What's a Typical Day at Work?
AL: My typical day starts around 10am because I may not finish until 9pm at night. A lot of my team are in the U.S. or other jurisdictions.
First comes email triage. If you get lost in emails immediately, you can lose several hours. But some emails are urgent. I respond to those immediately and come back to others later.
Based on what was in my inbox, I update my diary—a list of things I need to get done on a daily, weekly, and quarterly basis. Every quarter, our team prioritises. We really do have a plan and we know what success looks like. If we don't achieve it, we address it.
In the morning, I also talk to our outsourcer. Managed by two lawyers based in New York, we consider these 44 people to be an extended arm of our team.
Assuming there are no fires to be put out, I move on to strategic projects. Recently, for example, we created a self-service NDA portal with electronic signature for our 22,000 employees. Next quarter, we will use AI technology to read NDAs on paper, comparing customer NDAs to our templates and playbooks. The NDA will be tagged with different colours – green for 'not review', yellow for 'needs annotated' and red for 'needs review'. I try to spend the early part of the day making sure I am pushing the ball forward on those types of major initiatives—the kind of things that never get done if you leave them until later.
I also spend a fair amount of time on calls with other VPs reviewing goals, success metrics, and budgets.
In addition, I am responsible for talent development. Inside the legal team, we need to be more multidisciplinary. Most people on the team are not traditional lawyers and we need to train them to use more tech and tools. Do our people have a mentor, where do we see them going, do we need to upskill or expand their skills? We just launched a new training plan. In May, we'll bring 167 people together in Palo Alto for team-building activities and a two-day leadership event.
Finally, I keep informed on the industry. CLOC and ACC are essential for that. What are other in-house legal teams doing? What are the new technology offers?
What is Your Take on the Rise of Legal Ops in the UK & CLOC?
AL: Legal ops is one of the most exciting areas in the legal market. More than half of law departments now report having a legal ops role. This year at the Las Vegas CLOC event in April, we'll have over 2,000 people.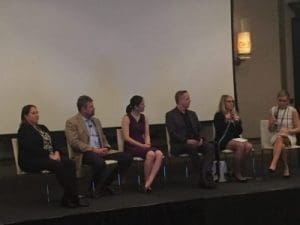 I'm a founding member of CLOC in Europe. I'd been part of the US group and was offered to expand in Europe on behalf of CLOC. We've had four meetings so far. I really appreciate the willingness of these GCs, such as Katie from Lloyds who's very active on diversity issues. Since the Europe CLOC conference in January, we've had lots of new contacts. For instance, The Law Society is asking about training for new lawyers/lawyers of the future.
All GCs are feeling the pressure. I mean, look at the regulations in the legal industry. GDPR is coming in May. All this complexity is combined with the pressure from CFOs to manage legal resources effectively and do things differently. As a result, a lot of GCs see the value of a legal ops role.
In the UK, they are starting to hire for the role. Thanks to CLOC, I've discovered colleagues who I didn't know were already doing it. Getting our collective voice heard is great for the industry. The emergence of this role shows that the shift in legal service delivery is real. It demonstrates that the legal industry is changing. For years, IT and HR seemed to have transformed themselves while legal remained stagnant. It turned out there was all manner of innovation happening beneath the surface in law departments.
What about law firms? Some are starting to hire transformation leads. But clients remain the urgency drivers. If the client is telling a law firm that they need to change, that helps the law firm transformation lead overcome the traditional resistance to innovation, which absolutely has to happen.
Last Question, Because We All Need our Daily Source of Energy. Coffee or Tea? 
AL: I aspire to be an herbal tea drinker – roasted rice green tea is my favorite – but I often give in to a creamy latte!
About the author
---